G&W is developing Bluetooth software and devices since 1999. Based on this long years experiences we can offer you a broad range of services for your Bluetooth development or system integration.
Bluetooth PCI Adapter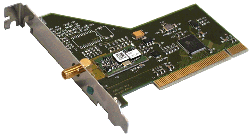 The Bluetooth PCI Adapter turns every destop PC into a Bluetooth Access Point. It also supports all major Bluetooth Profiles. It comes with Software support for Windows 98 / ME / NT /2K /XP and Linux.

More Information...


BlueSerial Bluetooth Serial Port Adapter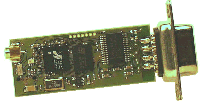 The BlueSerial Bluetooth serial port adapter makes it easy to turn any device with an RS232 compatible serial port into a Bluetooth device. It enables wireless communication with other Bluetooth devices like computers, PDAs, cell phones and many more. Because of its small size (18x44mm excluding the SUB-D connector) it can be used even in environments where only limited space is available. Two LEDs provide monitoring of the actual operation.

More Information...

Bluetooth Host Stack
G&W has developed the PICO Software Stack PSS1.1. This highly portable upper layers (above HCI) Bluetooth Stack was already ported to various platforms (PC based and embedded). It is Bluetooth 1.1 qualified and available for licensing.
We also offer porting of application optimized versions of this stack to your platform together with your application profile integration.
Data Sheet


Downloads
Compatibility Testing and Qualification
G&W also offers consulting services for Bluetooth Qualification and compatiblity testing of your product.
Compatibility is an important factor for Bluetooth enabled products and should be asured on protocol, profile and application layers.
Industrial Bluetooth
If you plan to incorporate Bluetooth technology into an industrial application G&W is offering consulting and design in services. An industrial Bluetooth module, the PICO Core, is available for system integration from Sphinx Electronics. If you need any costumization we offer either direct integration of this module into your system or, if you are planning for higher volumes, fully customized solutions.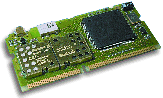 The PICO Core Module represents an off the shelf complete Bluetooth system solution for industrial applications. Using the DIMM-PC industry standard form factor it not only implements the lower layer Bluetooth functions but also the upper layer protocol suite (L2CAP, RFCOMM, SDP), thus allowing the system integrator to concentrate on his application. The PICO Core module may operate as a Bluetooth Slave or Master device, or both.

The PICO Core Module provides a number of hardware interfaces for a broad range of applications:
Standard RS232 serial port (either in DTE or DCE configuration) for simple cable replacement application.
ISA PlugAndPlay interface for bus oriented applications (e.g. PC104).
IEEE1284 interface for printer or other parallel port applications.
GCI for ISDN applications.
PCM interface for voice applications.
General parallel I/O interface for special functions.
An easy to use configuration software allows the configuration of the module as well as customisation of various parameters. After one time configuration the PICO Core Module Bluetooth functions are transparent to the rest of the system in most applications. For systems requiring run time re-configuration or other special functions an application programming interface is provided.

An evaluation board for the PICO Core module is available from HANTZ + PARTNER.
Other Examples of Bluetooth developments by G&W

The Sphinx Electronics PICO Card is an universal Buetooth PC-Card (PCMCIA). It comes with drivers for all actual Windows™ operating Systems and is compatible with Linux Bluetooth solutions. For more Information please visit Sphinx Electronics.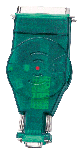 The PICO Plug is a general purpose serial and parallel port Bluetooth adapter. It implements the Serial Port Profile (by utilising the PICO Software Stack PSS1) and, together with a second PICO Plug or other suitable Bluetooth device, may be used to replace a serial or parallel cable. The PICO Plug Bluetooth functionality is completely transparent. Thus no additional software is required to set up a Bluetooth link between two devices (e.g. a computer and a peripheral device like a modem or printer).
The PICO Plug will automatically detect a connected peripheral or computer. This feature allows the operation of the PICO Plug without any configuration. Additionaly, the PICO Plug comes with an easy to use PC application to configure various parameters like security settings or device name.
The PICO Plug internal Software can be upgraded easily to support additional profiles as they become available. For more Information please visit Sphinx Electronics.
If you are looking for software updates for the PICO products click here.
BLUETOOTH is a trademark owned by Bluetooth SIG, Inc. and licensed to G&W Instruments GmbH